Water Damage Restoration
The Water Damage Restoration process begins when you call us. Scope Environmental is available 24/7 for water damage emergencies. When dealing with water damage time is not on your side, even a delay of a couple hours can significantly increase the severity of the damage. Water damage can be chaotic, when you call Scope Environmental we understand the situation and what you must be going through. Feelings of anger, confusion, stress and vulnerability are completely normal during a crisis like this. Scope Environmental has the specific, certified, water damage training and experience to help you through this difficult time. We specialize in water damage restoration, in fact it is the bedrock of our business.
Speed is crucial when dealing with water damage. No two Water Damage Cleanup Restoration situations are the same, the longer water damage is left to sit and not properly handled, the more damage it is likely to do. Scope Environmental responds quickly to your emergency and use the most advanced technology available to handle every facet of your emergency from the initial inspection using thermal imaging technology to cleanup and finally the full restoration.
Typically the water damage cleanup and restoration process follow five steps.
Inspect the damage and make a plan of action.

Remove all standing water.

Dry and dehumidify the damaged area.

Clean and sanitize the damaged area.

Begin the restoration process.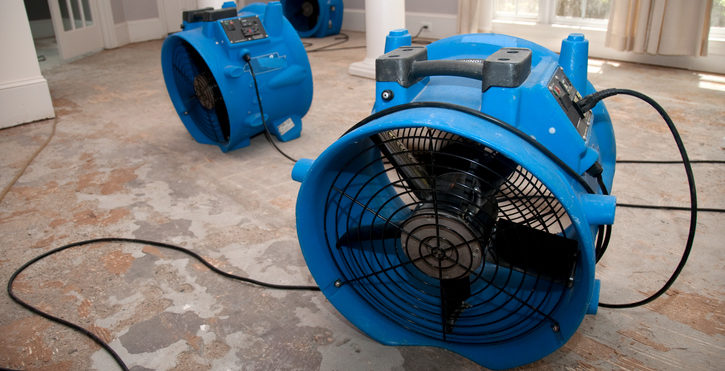 Water Damage Restoration
Restoration companies involved in water damage remediation and structural drying efforts will use a number of tools such as blowers, floor driers, heaters, fans, and dehumidifiers to ensure they remove all the excess water as soon as possible to minimize the possibility of microbial growth as the high levels of humidity mix together with airborne allergens and ultimately turn into mold spores.  Hiring the right certified firm that adheres to the strict IICRC standards of applied drying and has the resources to get onsite, do the moister assessment and set up all the correct equipment in the optimal locations  can make the difference between a small water loss first that will be completed in several days and a significant mold infestation that can take weeks to contain.
After the water damage has been taken care and everything is dry and safe, you now need to build it back.  If its done right then the reconstruction may be a few feet of drywall and some paint, however if improper methods are used it could be much more significant, adding to the completion time and cost.  Choosing a  certified and experienced company that understands how to properly deal with a water damage loss in your property will give you piece of mind and save you money.   If life happens and you find yourself needing a company the specializes in Water Damage Restoration, Scope Environmental is certified by the IICRC, the EPA, has a 5 Star rating on social media has the knowledge and experience to get your property back to pre-loss condition as quickly and affordably as possible.  Scope Environmental will take care of the water damage, work you're your insurance, handle all the billing and restore your property to better then pre-loss condition.
Water Damage Restoration Tip
Restoring water-damaged homes after a disaster can be a real challenge if you don't know what you're doing.

Depending on the source of the water you can experience light to heavy stains to the walls and the floors of your home.

Flooding can be caused by a number of problems such as broken pipes, rain/wind, tree damage, leaking plumbing fixtures, and natural disasters, causing different levels of destruction throughout your home.

Once water floods the house you can check whether the restoration efforts are going the right way in a few ways. If you still sense a musty, stale smell in the air this means you may have rotting wood and water still remaining somewhere around the home. You could also notice a change in the color and texture of the walls and floors and in some cases that will be irreversible and may need serious repair work.

This won't just affect the look of your home but also its value and potentially your health.
Call The Experts
Scope Environmental is a professional water damage restoration firm and is certified by the IICRC in WRT, MRT, AMR.
GIVE US A CALL : (888)504-5525
EMERGENCY RESPONSE WITHIN 1 HOUR