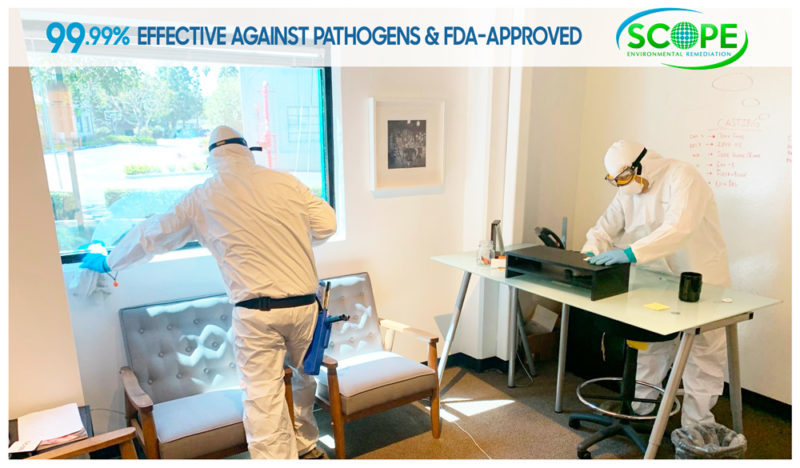 Due to the spread of the COVID-19 virus, we have established a four-step remediation protocol. Based entirely on current EPA and CDC guidelines to decontaminate and sanitize structure interiors from airborne pathogens, including COVID-19. Through strict adherence to the highest biohazard remediation standards, we're able to provide our customers and employees with the best possible protection. We understand how important the health and safety of you and yours are, so we stand by our work with a 100% customer satisfaction guarantee. 
While our methods are powerful, we can't claim to protect the premises from anyone infected with this virus or any other from entering. What we can do is significantly decrease the number of pathogens present in a space or structure. We can do that through the use of EPA-registered and approved biocide solutions, as well as specialized air filtration equipment and ultraviolet hydroxyl airborne generators. They combine to kill 99.99% of all airborne pathogens. 
First, we isolate and contain the office, store, lounge, showroom, or whatever the room is. After everything is closed off, such as windows, doors, HVAC registers and others, we construct a safe staging area. Our professionals, outfitted in the best protective personal equipment (as advised by the EPA and CDC), such as gloves, hazmat suits, face masks with respirators and more, will install industrial negative pressure air purifier machines. 
These machines will be strategically placed throughout the structure. This placement allows them to create a pressurized wind tunnel that will intake any airborne spores. Then, our trained techs will wipe down every service using EPA and CDC approved biocides. Many pathogens will be eliminated. Others will become airborne – where they'll be caught in the pressured wind tunnel. The air purifiers will run them through a 3-layer filtration system. 
This is just a general overview of how we eliminate pathogens from your structure. We can discuss this in greater detail with you when you message us through our site or call: (888) 504-5525.